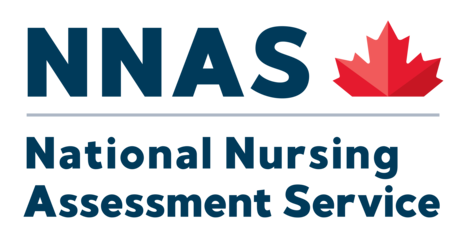 Register with NNAS
National Nursing Assessment Service (NNAS) Terms and Conditions
 Terms and Conditions
 Privacy
The National Nursing Assessment Service (NNAS) keeps your personal information private, confidential and secure. The Personal Information Protection and Electronics Documents Act (PIPEDA) ensures this protection. For more information about PIPEDA, see http://www.priv.gc.ca/leg_c/leg_c_p_e.asp .
Please read this document carefully. You must understand and agree with it to continue with your NNAS application.
a) Location of Information and Documents
NNAS has a legal agreement with CGFNS International, Inc., (Commission on Graduates of Foreign Nursing Schools) in Philadelphia, Pennsylvania, USA. CGFNS International has an important role in your application for registration as a nurse in Canada. Any information and documents you send to NNAS will be kept in the secure CGFNS database.
b) Your Personal Information
NNAS collects, uses and shares your personal information only to assess your credentials for nursing in Canada, according to Canadian regulatory body standards – and according to PIPEDA and other laws. 
NNAS will use your information in the following ways:
· To verify and authenticate any information in your application, by contacting any person or organization listed in it.
· To send your documents to any Canadian nursing regulatory body to which you apply, including:
· Any reports or evaluations prepared by NNAS,
· Any information or documents collected by NNAS,
· Any results and reasons for any action NNAS takes against you.
NNAS or the regulatory body will use your personal information for statistical purposes, but not in a manner that uses your name or other identifiers. An example of this would be to calculate how many nurses were registered in Canada in 2014.
Access to your Personal Information
You can track the status of your application on the NNAS website at any time. You will also have access to your NNAS Advisory Report through your online account. You may contact the NNAS (in writing) (P. O. Box 8658, Philadelphia, PA 19101- 8658, USA) for copies of any documents in your file.
Your Documents
Any personal information you or a third party submit to NNAS, or that is created by NNAS, will be securely stored and in electronic or paper form. It will become NNAS's property, and will not be returned to you or the third party. Any new documents created by NNAS will remain their property.
Web Privacy
NNAS respects your online privacy. You may visit and browse the NNAS website without giving any personal information.  However, you must register with a Password and User ID to enter the online NNAS application system or to check the status of your file.
NNAS uses information from site visits for statistical purposes – such as to measure visitor interest in certain areas, or to improve the website. We do not need to know your identity in order to do this.
i. NNAS ID and other confidential information
Your User ID, Password and NNAS ID number identify your personal information and application in the NNAS secure database. Do not share this information with anyone, as NNAS is not responsible if anyone alters your personal file.
If you have any problems opening your NNAS file, or if you think anything has been changed in it without your permission, contact NNAS immediately.
ii. Your Nursing Education
You will only be eligible for registration as a nurse if you completed the education and training required by the nursing regulatory body in that province. It is your responsibility to know these educational requirements.
Acknowledgement
· I confirm that the information and documents that I have submitted or will submit to the National Nursing Assessment Service (NNAS) are true and complete.
· I confirm that any information or documents that are submitted on my behalf are true and complete, and sent in good faith - to the best of my knowledge.
· I understand that NNAS and others will rely on the information and documents I have submitted to assess my nursing credentials.
· I understand that if I falsify, alter or tamper with any document in my application, or if I alter or misrepresented a NNAS report, that my eligibility for registration may be adversely affected.
· I understand that my records will be kept in my NNAS file, and will be sent to a regulatory body for any new application I make to NNAS in the future.
I HAVE READ, UNDERSTOOD, AND AGREE WITH THE ATTACHED TERMS AND CONDITIONS AND I ACCEPT THAT BY PRESSING "SUBMIT" BELOW, I am providing a   LEGALLY BINDING electronic signature.
---
Email Address
In order to complete the online application process, please supply your email address. You will be sent a confirmation email with further instructions. Once you have confirmed your email address by logging in, you will be allowed to complete the online application process. The security question will help verify your identity if you forget your password.